School Counseling and School Reentry During COVID-19
(Updated Feb. 16, 2021) Organizations including ASCA, National Association of School Psychologists, CASEL, AASA (School Superintendents Association) and others have released detailed recommendations regarding school reentry. Among the issues addressed are multidisciplinary teams, addressing social emotional learning and academic needs, school safety protocols and equity and access considerations.
According to the ASCA/NASP guide, School Reentry Considerations (PDF), among the key elements to consider are:
Reviewing guidance from local, state and federal agencies (U.S. Department of Education COVID-19 Handbook Vol. 1: Strategies for Safely Reopening Elementary and Secondary Schools)
Coordinating responses within and across schools and the community
Clearly communicating reentry, short-term recovery and long-term recovery plans with parents, families and other relevant community stakeholders.
Engaging in resource mapping to identify available resources and needs. This process should include an examination of existing school-based teams.
Mapping common goals and streamlining efforts to avoid duplication.
Making decisions around temporary reallocation of resources depending on need (e.g., repositioning school nurses if certain parts of the district report more cases of COVID-19).
Providing scripts for teachers and other staff to read to students to ensure consistent communication from a trusted and familiar adult.
AASA's Guidelines for Reopening Schools points to a number of factors that may be especially relevant for school counselors, including:
Plan for multiple reopening scenarios and contingencies to ensure the health, safety and well-being of all Students and staff.
Ensure students' and families' equitable access to technology required for virtual learning.
Provide continuing support to students and adults to address their immediate and long-term physical, psychological, social and emotional needs.
Ensure all schools are trauma-informed and trauma-skilled.
Transform the teaching-learning-assessment process to ensure personalization, engagement and differentiation.
School Reentry Resources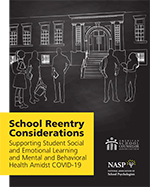 ASCA/National Association of School Psychologists: School Reentry Considerations: Supporting Student Social and Emotional Learning and Mental and Behavioral Health Amidst COVID-19 (PDF)
School Reentry: The School Counselor's Role (PDF): School counselors have specific training to help students successfully transition to a new school year, even a year as challenging as 2020. By focusing on direct student services, school counselors can help students develop skills that will help them navigate changing expectations and environments. By providing indirect student services including consultation and collaboration with families, teachers and other stakeholders, school counselors can partner with others to make this year the best that it can be, even with its many uncertainties.
CASEL: Reunite, Renew and Thrive: Social Emotional Learning Roadmap for Reopening School (PDF)
School Counseling During COVID-19
Planning for Virtual/Distance School Counseling During an Emergency Shutdown
For additional lessons broken out by grade level, see the following ASCA Toolkits:
Career Development
Career One Stop, the U.S. Department of Labor's career exploration tool
Google Expeditions, virtual field trips and AR experiences
Social/Emotional Development
BrainPOP provides movies with social/emotional learning components that students can watch and respond to.
CASEL has collected a number of resources to assist in addressing students' social and emotional needs. Also download SEL Roadmap: Actions for a Successful Second Semester.
Centervention game-based behavior interventions help students practice social and emotional skills.
Inside SEL links to a number of social/emotional learning resources.
NEWSELA offers social/emotional learning lessons students can complete remotely.
Sanford Harmony at National University provides social and emotional learning tools for pre-K–6.
Second Step is offering free social and emotional learning activities for ages 5-13, a podcast for families and a mindfulness program.
Tech Tools and Distance Learning
Before using any technology tools to deliver services to students, consult with your district/school. Note: For details about HIPAA and FERPA relative to digital platforms for school counseling, click here.
Other
Virtual School Counseling Crowdsourcing
Across social media and in the ASCA SCENE, school counselors have shared a number of resources, creative lesson ideas, recommendations for digital learning tools and more. ASCA has curated some of those ideas here. For links to specific lessons shared by other school counselors, visit the Virtual School Counseling Lessons and Tools community and library on ASCA SCENE. Please add your own lessons as well. (If you experience difficulty uploading your file, email Angie Hickman.)